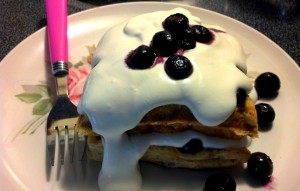 I didn't eat very much for dinner last night, so I quickly became quite hungry once I got up this morning.  I still had batter in the fridge, so I made low-carb waffles again. This time I layered them with homemade whipped cream and thawed blueberries (Costco sells bags of these much cheaper than you can get them fresh; and they're available year-round).  I think I put a little too much EZ-Sweetz in the whipped cream.  I was thinking about the blueberries needing the sweetening, but they were actually quite good by themselves.
At lunchtime I wasn't really hungry, but I could tell my stomach was empty and I needed to eat something, so I had about 1/3 of a cup (1.7 ounces…I measured) of mixed nuts.
For dinner, I made a rich chicken soup. Actually, it was going to just be chicken breasts with a swiss cheese, bacon, and mushroom sauce on top, but there was a lot of sauce, and it was kind of thin, and I didn't want to spring for the carbs in cornstarch. When my daughter suggested that I cut up the chicken and serve it as soup, I counted my blessings for having such a brilliant child.
The "soup" part is made with heavy cream with just a little water from cooking the chicken (plus all the chicken fat and the oil I used for browning it, and a few tablespoons of butter that I browned the mushrooms and onions in) and half a pound of swiss cheese. It was very rich!  I loved it, but I could only eat about half a bowl.
Update: The next morning, I'd dropped almost three pounds.